We interviewed John Elliott of Entpack to find out his thoughts on how packaging in the food industry is changing?
Will reusable packaging options become more prevalent?
It seems very likely that reusable packaging will become more common. The use of single-use non-recyclable packaging options is in rapid decline: take plastic straws for example.
We need to clarify the interpretation of single-use. A better term would be single-use widely non-recyclable plastic materials. Not just single use. For example, HDPE milk bottles are single use but successfully recycled and from an environmental perspective better than traditional glass
It is not just a UK consideration though; it is fast becoming a global issue. The Indian Prime minister Narendra Modi has recently announced India will eliminate all single-use plastic by 2022.
The biggest drive will be to design packaging and systems that deal with packaging once they are no longer needed; be that recycling or secondary use.
The focus will be on how to grow the notion of the circular economy of plastic, i.e. how to ensure that plastic is infinitely recycled.
Will there be an even bigger shift towards using materials which are more readily recyclable?
We have already seen the development of new materials which are easier to recycle. This refers particularly to materials which have good gas barrier properties. Traditionally, such packaging solutions were made with multi-layer laminated plastic structures which helped to increase a product's shelf life.
New recycling technologies are readily being commercialised that will be able to handle laminated materials that in the past were not recyclable.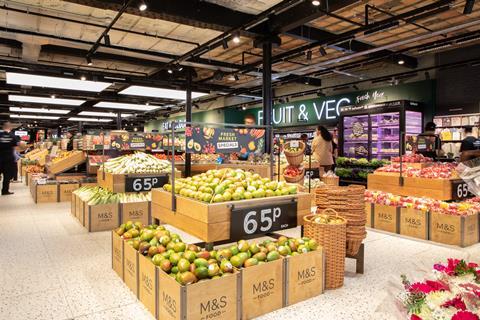 Will supermarkets revert to the traditional means of displaying and selling food/fresh produce, loose and if so, what impact will that have on manufacturers and producers?
Retailers have already started to do this and are trying to increase sales of loose fruit and vegetables. Logic suggests that this trend should continue to grow. The reality is, however, that consumers still prefer the convenience of pre-packaged goods; for example, people favour to buy six apples already in packaging, rather than picking up six loose apples and bagging them up themselves. It is the same amount of fresh produce, but convenience seems to always prevail.
What is more, prewrapped goods give the impression of being more hygienic – fewer people have touched the produce, thus anxieties over cross-contamination are lessened. That being said, you should always wash your fruit and veg, prior to consumption, pre-packaged or not.
What are the possible alternatives to plastic, particularly single-use?
Paper packaging seems to be gathering preference over plastic – has great consumer appeal; the perception is that paper or even metal are better environmental alternatives. The truth is, however, that both are processed materials, and both can have negative impacts, and a greater environmental burden plastic.
Will shifts in packaging strategies have an impact on quality control and preserving goods?
No, we expect that the quality and shelf life of products to improve upon the current levels, thanks to ongoing improvements in technology, research and development.
How does society and the media influence packaging trends?
We would suggest there is a great deal of miseducation being presented about plastics. As a result, the public is being misinformed. The consumers which are privy to ongoing press attention, drive sales which in turn impacts on the packaging solutions required. Retailers and manufacturers, therefore, are having to react to help ensure their consumers that the packaging products they use, are sustainable and responsibly considered. Without such reassurances, the consumers will vote with their feet.
How will producers continue to imprint their brand on to goods going forward, if loose produce becomes the norm?
There are a few options out there, such as compostable PLU labels and these are currently used on fruit. Increasing use of technologies most smartphones van read 2D barcodes to direct to a website.
How innovative have manufacturers and producers become in the wake of the shift in packaging demands?
Manufacturers have been quick to respond, with the likes of Waitrose switching out black plastics in six months. The problem will not be resolved overnight though as the issue is embedded within the waste collection infrastructure in the UK. New technologies which aid in separating waste products are slowly coming into play, such as Digimarc, which is led by Proctor and Gamble an initiative from Helen Mac Arthur Foundation.
What timescales are retailers working to?
The government needs to act and help with the recycling of municipal waste. It is planned that by the end of 2022, there will be a packaging taxation system penalising plastics with less than 30 % (to be agreed.) This could be a big game-changer.
One of the main issues is that plastic waste has no real value: it is far cheaper to drill for crude oil than it is to recycle used plastic using the processes available today. Legislation could change this.
Retailers are part of the problem, but they cannot fix it in isolation. A combined effort from all stakeholders (government, retailers, packaging manufacturers, fillers and packers) is required and is in action. We expect that in approximately five years' time, many changes in relation to packaging will be evident.
Alas, we foresee that the problem may worsen before it improves. Currently, the UK is exporting 60% of its waste to nations overseas. Some countries have now stopped accepting waste, such as Malaysia. They have gone to such extremes that they have returned waste to Canada and have threatened the UK to do the same.
Retailers have the ability to react quickly and very often they do so, but their reactions don't always fix the problem and as said before, acting in isolation is not the way forward.
Big thanks to John Elliott of Entpack for his industry insight, Henderson Brown has worked closely with John on contract assignments and his business as a packaging industry expert.