We interviewed John Elliott of Entpack to find out his thoughts on how packaging in the food industry is changing?
Will reusable packaging options become more prevalent?
It seems very likely that reusable packaging will become more common. The use of single-use non-recyclable packaging options is in rapid decline: take plastic straws for example.
We need to clarify the interpretation of single-use. A better term would be single-use widely non-recyclable plastic materials. Not just single use. For example, HDPE milk bottles are single use but successfully recycled and from an environmental perspective better than traditional glass
It is not just a UK consideration though; it is fast becoming a global issue. The Indian Prime minister Narendra Modi has recently announced India will eliminate all single-use plastic by 2022.
The biggest drive will be to design packaging and systems that deal with packaging once they are no longer needed; be that recycling or secondary use.
The focus will be on how to grow the notion of the circular economy of plastic, i.e. how to ensure that plastic is infinitely recycled.
Will there be an even bigger shift towards using materials which are more readily recyclable?
We have already seen the development of new materials which are easier to recycle. This refers particularly to materials which have good gas barrier properties. Traditionally, such packaging solutions were made with multi-layer laminated plastic structures which helped to increase a product's shelf life.
New recycling technologies are readily being commercialised that will be able to handle laminated materials that in the past were not recyclable.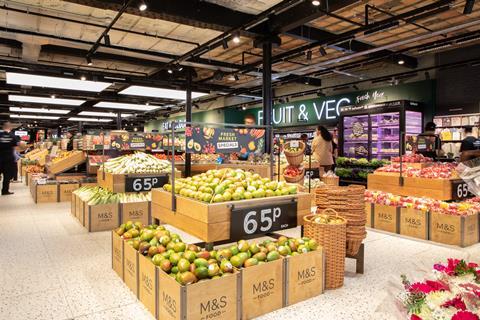 Will supermarkets revert to the traditional means of displaying and selling food/fresh produce, loose and if so, what impact will that have on manufacturers and producers?
Retailers have already started to do this and are trying to increase sales of loose fruit and vegetables. Logic suggests that this trend should continue to grow. The reality is, however, that consumers still prefer the convenience of pre-packaged goods; for example, people favour to buy six apples already in packaging, rather than picking up six loose apples and bagging them up themselves. It is the same amount of fresh produce, but convenience seems to always prevail.
What is more, prewrapped goods give the impression of being more hygienic – fewer people have touched the produce, thus anxieties over cross-contamination are lessened. That being said, you should always wash your fruit and veg, prior to consumption, pre-packaged or not.
What are the possible alternatives to plastic, particularly single-use?
Paper packaging seems to be gathering preference over plastic – has great consumer appeal; the perception is that paper or even metal are better environmental alternatives. The truth is, however, that both are processed materials, and both can have negative impacts, and a greater environmental burden plastic.
Will shifts in packaging strategies have an impact on quality control and preserving goods?
No, we expect that the quality and shelf life of products to improve upon the current levels, thanks to ongoing improvements in technology, research and development.
How does society and the media influence packaging trends?
We would suggest there is a great deal of miseducation being presented about plastics. As a result, the public is being misinformed. The consumers which are privy to ongoing press attention, drive sales which in turn impacts on the packaging solutions required. Retailers and manufacturers, therefore, are having to react to help ensure their consumers that the packaging products they use, are sustainable and responsibly considered. Without such reassurances, the consumers will vote with their feet.
How will producers continue to imprint their brand on to goods going forward, if loose produce becomes the norm?
There are a few options out there, such as compostable PLU labels and these are currently used on fruit. Increasing use of technologies most smartphones van read 2D barcodes to direct to a website.
How innovative have manufacturers and producers become in the wake of the shift in packaging demands?
Manufacturers have been quick to respond, with the likes of Waitrose switching out black plastics in six months. The problem will not be resolved overnight though as the issue is embedded within the waste collection infrastructure in the UK. New technologies which aid in separating waste products are slowly coming into play, such as Digimarc, which is led by Proctor and Gamble an initiative from Helen Mac Arthur Foundation.
What timescales are retailers working to?
The government needs to act and help with the recycling of municipal waste. It is planned that by the end of 2022, there will be a packaging taxation system penalising plastics with less than 30 % (to be agreed.) This could be a big game-changer.
One of the main issues is that plastic waste has no real value: it is far cheaper to drill for crude oil than it is to recycle used plastic using the processes available today. Legislation could change this.
Retailers are part of the problem, but they cannot fix it in isolation. A combined effort from all stakeholders (government, retailers, packaging manufacturers, fillers and packers) is required and is in action. We expect that in approximately five years' time, many changes in relation to packaging will be evident.
Alas, we foresee that the problem may worsen before it improves. Currently, the UK is exporting 60% of its waste to nations overseas. Some countries have now stopped accepting waste, such as Malaysia. They have gone to such extremes that they have returned waste to Canada and have threatened the UK to do the same.
Retailers have the ability to react quickly and very often they do so, but their reactions don't always fix the problem and as said before, acting in isolation is not the way forward.
Big thanks to John Elliott of Entpack for his industry insight, Henderson Brown has worked closely with John on contract assignments and his business as a packaging industry expert.
A number of key industry speakers took to the stage on Tuesday 8th October at the Ricoh Arena for the FPJ live 2019 conference. So what were the main takeaways?
The B-word, Brexit of course was a major point for discussion. We were also privy to talks on Fresh Produce Brands; the methods and means of producing more fresh produce; sustainability; robotic innovation; health and fresh produce benefits; food waste and climate change.
Have a read below of our own round-ups of the talks that we attended.
Kantar
Joe Shaw Roberts, Insights Director for Kantar discussed sustainability in the produce sector and the ways in which meat consumption is reducing. 81% of those questioned as to why they moved towards a meat-free/reduced diet, cited health reasons as the main motive.
Joe went on to say that some produce sectors are growing whilst others are not. Products which are going in to plant based meat free meals are rising whilst many other fresh produce items such as broccoli and potatoes are not growing as fast as they usually accompany meat as part of an entire meal.
Trends are showing that sales of whole head produce are growing faster than pre-prepared produce with a rise in cooking from scratch due. This could be attributed to consumers wanting to reduce their packaging waste or simply because it is cheaper. Consumers are becoming more careful about what they buy and want more lbs for their pounds. That being said, further findings suggest that 44% of shoppers are now more concerned about selections on packaging too.
Jack Ward (British Growers Association) and Hayley Campbell Gibbons (ADHB).
In a really interesting talk and one which had everyone fully tuned into. The overarching feeling is that Brexit-systems are not in place and the government is not ready for the 31st of October when it is planned that the UK will leave the EU.
There simply are no answers at the moment as to what will happen. However, there is optimism that a deal will be in place and that no matter what, the flow of goods will continue. Clarity from the government is fundamental in trying to get this.
Any perceived threats and opportunities from outside of EU won't happen day on day one of departure: the 1st November should be the same as 31st October, if not with some port border challenges.
Going forward, DEFRA budgets will also have a focus on supporting on Automation and crop protection.
The British Growers association remain ambitious despite the uncertainty. They have continued to grow and will continue to support the industry and growers.
Avnish Malde (Wealmoor)
Traditionally, Wealmoor had always been a very private, family-run business. Now though they are more in the public eye and are keen to project their values and ethos to the outside world.
They believe that the global supply chain is important as they have many relationships worldwide. There is much going on and they are trying to further integrate and invest in their farming operations in five countries.
Wealmoor is creating more brands, such as Herbfresh and Saxons Asparagus with the view to create a sense of provenance and owning stories about production. In time they think that they can get more brands out there on the global market, but they want to do so, cleverly, whereby the story is central to each.
They went on to say how sustainability is of paramount importance and they are investing in communities and growers. In the likes of Kenya, they plan to attack the issues of climate change head-on for a more promising future.
John Gray (Angus Soft Fruits)
The berry category is booming! There is huge reported growth which is down to three factors within their business:
People
Their strong supply chain
Being adaptable
There are still opportunities for growth- the market has grown by just under 50% in 5 years. The 4 key berries are still growing but more steadily. John sees premium as a growth area.
Geographically, Peru is predicted to overtake Chile in terms of the volume of berries produced this year.
Most interestingly, the producers of British summer fruits, still are competitors but have opted to work together to drive growth.
In terms of the marketing of products, the trend is to continue with direct contact with consumer through campaigns.
How does geopolitics affect this sector? Gray suggested that it will be an impact no matter where anyone is in the UK, but suggests to look at it as an opportunity.
Mark Culley (Orchard Fruit Company). 
They have seen success after the restructure and renaming to the Orchard Fruit Company. Their focus on an overall capacity allowed them to take cost out and remain competitive. The result: new customers, which are growing in their market space.
Under the previous name, Orchard World which is a company that has existed for 30 years and in that time frame, they have seen many changes.
The "pile it high, sell it cheap" mantra of Tesco is now a memory and in that bygone time, you used to have lots of customers, but now all seemed to have merged. Growers have grown bigger which has allowed retailers to go directly to them . The result: retail grower partnerships and investments.
Therefore it is not necessary for a 'middle-man' to connect retailers and growers – this relationship can be direct, hence lowering costs. There are now opportunities in the export market which are ripe for exploration and exports into Asia currently are growing considerably.  Can you get better returns from export? Culley suggested that some of their best return is in the export market.
Longer-term visions for Orchard Fruit Company include continue to do what they are doing, whilst being innovative. And in terms of predictions, cherries will continue to grow significantly.
Tom Watson– (MP and Deputy Labour Leader)
Tom Watson was very apologetic for the current Brexit situation and how parliament is dealing with it. He suggested that crashing out of the EU would be a huge political failure and the House of Commons with its complexities makes it very difficult to siphon out plausible solutions. Watson acknowledged how serious the situation is. He went on to say that consumers are not aware of how delicate the situation is for food and in particular produce. His view is that everyone needs to give a little to have continuity.
He went on to say that he doesn't think the UK will crash out on 31st of October, but he doesn't know what the next steps are going to be.
Overall the deputy leader of the Labour Party, much like everyone else doesn't know what's going on!
Side note, he's been on a health drive himself which has seen him lose 8 stone over the past few years! He puts it down to changing his eating habits to more fruit and veg!
VEGPOWER
As we all know such a great success story and gave an update on the impact they have had. Eat them to defeat them! campaign was a roaring success. They have compiled a full report which is coming out in October.
They have devised a 10-year mission, that every child, every single day, should be eating one more portion of veg. There is economic value in this plan: £90m to-fresh produce, potentially.
To push this plan through, they have got ITV back on board and added Sky and Channel 4 advertising.
To date, they have raised £850,000 in cash and they obtained £10m worth of free marketing for the campaign. But more needs to be done and that requires further funding.
Take a look here to find out more: https://vegpower.org.uk/
Hugh Pile (Blue Skies)
Blue Skies offer a unique offering in the industry, fresh-cut fruit produced at source in their factories. This leads to fresher product and creating jobs at source.
Pile went on to discuss the methods of recruiting more people into the sector and what moves are needed to get people to join our market. Pile suggested that dipping into brands helps to attract people as it gives a sense of pride and attracts talent in. The key talent market they want to focus on is 'GenZennials' who are the generation of people that want to change the world and have a purpose.
Mike Snell- (IPL)
It is an interesting time for retail as there is a concerted effort afoot to cut out the middle-man. But how has the model changed?
Snell looked back to 2004 when IPL was started and to be innovative. It worked well in a monopolistic market, where suppliers are not making enough money and it was very fragmented.
IPL buy all of Asda produce 1/3 pack 1/3 direct 1/3 sourced.IPL has grown outside of fresh successfully. The model expands cautiously and most appropriate to help Asda do what it wants to do.
Supermarkets have now been giving longer-term contracts. Snell is a big fan of this notion, in particular those which last 2-3years as it creates stronger partnerships. The downside of longer-term contacts is that the number of people you can work with is reduced, taking massive business off some suppliers.
Snell was asked, "Would you consider acquiring suppliers?" His answer was, yes, but they would only buy if it added value. Not just to get bigger.
Price and quality remain the number one priority of consumers and provenance has remained further down the list of what consumers really want.
Snell went on to say that we should always look to buy products as close to the selling point.
Sainsbury's Asda merger: how much of a blow to the Asda side? Snell said that they hadn't done a great deal of planning for the future but they have improved processes and efficiencies. In effect they trained for a race that they will never run. CMA reasoning behind the block was cost would be higher for consumer. Snell went on to say that he couldn't figure out why that was a valid reason though and felt it would bring better pricing for customers.
On the topic of Brexit, IPL has prepared as much as they can. He predicts that the ports will cause problems, but those problems are all dependent on what type of Brexit occurs and what shortages happen off the back of whichever Brexit option materialises. What does a no-deal Brexit mean? As IPL is a budget retailer, the best value on offer has to remain. Furthermore, the reduction in plastics needs to be a consideration as it is the biggest single issue in Produce.
Snell says that he views the wider retail market as super competitive. Consumers today have the best options available, ever. The retail winner will be the one who provides the best experience not just price and going forward he felt that shopping in 'bricks and mortar' stores will continue but in combination with more online activity.
Guy Singh Watson (Riverford Organics)
This talk was a great insight into his life and how he has grown Riverford Organics.
Employee ownership (which stands at 74%) is a key factor in the lifeblood of the organisation as they have a meaningful say over their future.
A key point he made was that we need to make consumers understand the value of produce, seasonality etc. We should be driving this and not just trying to make money out of it.
Vernon Mascarenhas (Natures Choice)
Mascarenhas used this platform to talk about their industrial warehouses and vertical farming.
Such methods are affordable when products are imported as the product cost comes down.
Vertical farming is attracting interest from buyers and consumers and it is perceived that products grown in this way will be available from the end of 2020.
Chris Hutchinson (Spitalfield Markets)
Big changes are afoot for Spitalfield. Land near Dagenham has been purchased which will be used to become a site for selling meat, fish, fruit and veg. Something the location may be a worry due to logistical issues, but Hutchinson is hugely optimistic for such changes.
Simon Martin and Pierre Koffmanns (Koffmanns/Food Heroes)
Koffmann was established due to a gap in the market. Chefs wanted to have a hold on the conditioning, quality and taste of produce they were using.
Koffmann has a pipeline of new brands coming to the market in the next six months, including, sauces.
In terms of next steps for the business, it is not their intention to look at retail. However, they have had conversations with various retailers as they want a point of difference.
Sally Orange (Sally Orange Charity)
This was a great talk, discussing fruit costumes running marathons and the mental health benefits which can be obtained from eating fresh produce.
Minette Batters (NFU)
Batters suggested that the conflicting messages, consisting of lightweight conversations with no detail, have been offered by the Government about Brexit, which is in its purest form the most extraordinary time of change. If we do leave without a deal the only three product areas without tariff protections are cereals and grains, eggs and horticulture.
The talk then shifted in the direction of labour for farming and it was suggested that the government is not doing enough to meet the need. At present, workers (particularly those from other European nations) are being affected by the devaluation of the currency and also feel less welcome. Such ideas mean that immigration is at the front of the Brexit debate when the focus should be elsewhere because seasonal workers are not an immigration issue. The bulk of people understand this. But now, it has become political and the House of Commons out of touch with this.
However, there is a massive possibility for fresh produce revolution as Brexit has opened the eyes of industry members. They now have a closer connection with what people are eating and Brexit will bring about collective support for buying and sales across the industry.
Trade Deals: the battleground of Brexit. Most countries do not have the same legislation as the UK, that is obvious. Agriculture is a huge part of the US trade deal. However, the EU could put the UK on the waiting list for FTA.
Batters went on to say that aside from Brexit, there is a massive fruit and veg drive to help bolster good health practises. This is coupled with an Environmental Agenda, particularly with regards to climate change where the net change is hoped to become fully sustainable.
Plants and growing more of them is an effective method of CO2 removal. Going forward this relates to people wanting to know what their carbon footprint is and how they can take ownership of it to counteract any perpetuated negative impacts.
Finally, Batters talked about Women in Farming and how there is a drive to encourage more women to get involved in the industry. Batters suggested that more universities are seeing an influx in woman enrolling on courses related to the industry so a follow-through will hopefully occur.
A great event once again from the team at The Fresh Produce Journal, we look forward to next year!
Organisers say there will be a bumper programme of technical seminars and parallel events at this year's show
Preparations for the 2015 edition of Fruit Attraction are well underway and this year's fair will feature an extensive programme of technical seminars and parallel activities and sector-specific events, according to organisers Ifema and Fepex.
These include the second edition of Stone Fruit Attraction, which will be held on October 29, and will shine a spotlight on the diversity and variety of Spain's stonefruit offer that enables the country to be the only Northern Hemisphere country able to supply the market for six months of the year (April to November).
The seventh edition of Fruit Attarction, which is expected to be the biggest yet, will also host the first congress for kakis, Kaki Attraction, to address the growing prominence of this product in Spain's fresh produce basket.
Other highlights include the "Oganic Hub", a space dedicated to organic fruits and vegetables and a parallel session on the afternoon of 28 October entitle "Markets and marketing of organic fruits and vegetables in Europe", promoted by F&H, as well as Fruit Retail, an event organised by Alimarket, and the II Forum of Agri-journalists, which will focus on an analysis of the production and marketing of European fresh produce.
Meanwhile, Fruit Fusion, featuring cooking demonstrations from some of the best chefs in the country, will once again be a key part of the three-day event, as will Pasarela Innova, a space to showcase new varieties, and Foro Innova, an area featuring presentations on the latest developments in the industry.
New clementine variety ripens three weeks earlier than Clemenules
Chile has high hopes for a new licensed citrus variety that was recently launched on the global market. Clemenluz, or Andes 1, is an early maturing clementine which resulted from a spontaneous mutation of the Clemenules variety.
Clemenluz has similar characteristics to Clemenules – being of good quality, intense colour and seedless – but ripens three weeks earlier.
It has been planted in Chile for a number of years and is now being rolled out commercially in South Africa, Spain, Morocco and Egypt.
Andes New Varieties Association (ANA), the company that manages the licensing and certification of the variety, said it is also in talks with growers in a number of other countries such as Argentina, the US and Uruguay.
The Great British Tri-Nations Butchers Challenge team are getting ready for this year's contest. 
In preparation for the event, which takes place in New Zealand this September, the six-man team has been taking part in intense practice sessions at Leeds City College and at the Scottish Craft Butchers Awards in Perth, Scotland.
These practice sessions have focused on honing the team's practical and innovative skills by utilizing an entire lamb and a half side of beef to create a range of products. At the actual event, the team will have to do this, but with a two-hour time limit and in front of a large audience.
David Lishman, Great Britain captain, said the team was keen to be at its best for the upcoming Challenge. "This year's British team has massive enthusiasm and top-rate butchery skills. Our practice sessions have demonstrated just what a talented group we have, and boosted our confidence to push the Kiwis and Aussies hard for the title.
"Our focus so far has been on developing a theme and the various cuts to highlight exactly what we can do. With a side of beef, side of pork and a full lamb carcass, there is a considerable amount of meat to use and display. Small goods and sausage products are also an important element to the competition, enabling us to showcase the wealth of great expertise in the group." 
Nestlé is rebranding KitKats as "YouTube Break" for a limited run of 600,000 bars in the UK.
The Google-branded chocolate bars are the first of a series of 100 million differently-branded biscuits that will be produced as part of a new Nestlé campaign.
Nestlé has run tie-ups with Google before. The company, which tends to name its mobile operating systems after desserts or sweet snacks, named Android 4.4 "KitKat" as part of a branding deal.
Alongside the change of name, YouTube will be launching new playlists meant to allow biscuit-eaters to best enjoy their breaks. Searching "KitKat YouTube my break" on Android phones will bring up a special set of the top four trending YouTube videos.
Nestlé is also stamping chocolate bars with a special hashtag and wrappers that suggest different kinds of breaks, including "me time break" and "sporty break".
The tie-up is part of Nestlé's celebration of KitKat's 80th birthday, and YouTube's 10th, the chocolate bar company said.
Arsenal stars Mathieu Debuchy and Wojciech Szczesny have posted a picture of themselves braving some infamous durian fruit.
The photo of the footballers, posted on Debuchy's Instagram account Thursday (14 May), doubled up as a way of promoting the club's upcoming tour to Singapore, where the fruit – renowned for its potent smell – is popular.
In a separate story involving the same fruit, two Jersey firefighters crews and a Jersey Gas representative responded quickly to an alert about a potential gas leak at a block of flats.
The property was searched, but no gas leak was found, with the crews realising that the gas-like stench was coming from some durian fruit belonging to the residents. 
Blakemore Fresh Foods has said its turnover reached a new high of £39 million for the 2014/15 financial year, an increase of £3 million on the year before, after it secured 40 new clients and opened a new office in Bristol at the start of this year. 
The growth comes after a period of substantial investment for the fresh meat wholesaler and importer, which has opened three other new offices and a £3.5 million cutting and storage facility over the past five years.
Trading director, Richard Brownjohn, said the company had big ambitions for further growth: "It is our ambition to be recognised as one of the top five meat importers and wholesalers in the UK, and the contribution of those within our new offices, in addition to the existing expertise that we have across our operation, will be vital towards us achieving this goal."
Company claims unique design minimises machine loading and operational requirements
Post-harvest equipment manufacturer Wyma has unveiled its new Bin and Bag Tipper, designed to gently tip heavy loads of fresh produce into bags, bins or boxes.
This new addition to Wyma's product range was originally designed for a large potato chip processor who wanted a versatile tipper that would minimise labour input and maximise safety.
"The ability to quickly change between bin and bag operations minimises machine loading and operational requirements," the company said in a statement. "Another key feature contributing to its low operational requirement is the ability to secure the bags from the front, without having to reach out at the back of the bin tipper to place the retaining hooks on the back loops."
The Bin and Bag Tipper also eliminates the need for additional tippers or in-feed points, which Wyma claims reduces overhead costs and the environmental footprint of any given packhouse.